Avanti Facial Services
HydraFacial
HydraFacial is the newest breakthrough in non-laser resurfacing. HydraFacial cleans, exfolites and extracts. It hydrates the skin with nutrient-rich solutions, deeply cleanses the pores, and softens and lifts away impurities. The tip has multiple abrasive edges that exfoliate the skin several times each pass to achieve better, even skin resurfacing results without irritation. The vortex effect is created to easily dislodge & remove blackheads, whiteheads, and sebum, allowing for quick and painless extractions. The HydraFacial Skin Solutions are clinically formulated to target specific skin conditions, including wrinkles and fine lines, uneven skin tone and texture, clogged or enlarged pores, sun damage, and hyperpigmentation. The best part -- it is not a quick fix-it; the HydraFacial improves the quality of skin, actually helping to make it healthy.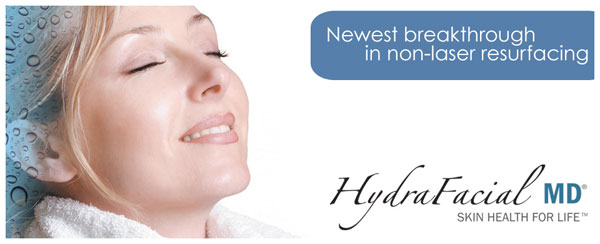 Microdermabrasion
Microdermabrasion is an exfoliation process that is used to remove the dead, outermost layer of skin, revealing new skin cells that are soft and smooth.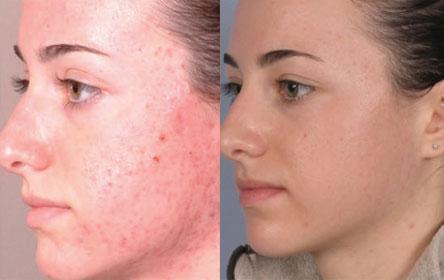 LED Light Therapy
This therapy was developed by NASA in the 1980s to improve the healing of wounds and tissue growth in space. Light emitting diode (LED) technology uses 100% safe wavelengths of light to stimulate cells, increase circulation, and promote collagen growth.
Oxygen Infusion
This therapy has recently become popular among Hollywood stars. This treatment utilizes the latest hyperbaric oxygen technology to achieve dramatic results. After just one treatment, your skin will feel firmer, rejuvenated, radiant, and fresh. Oxygen therapy facilitates the delivery of liquid antioxidants and other active ingredients to the deeper layers of the skin, and it also protects the epidermis from sun damage, pollution, and stress. Reduces the appearance of dry or irritated skin due to acne medications, microdermabrasion, laser treatments, or acid peel procedures. It may also be used simply to improve circulation and make sallow skin glow.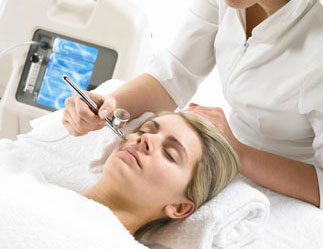 Derma Sweep
Derma Sweep is the latest innovation in skin rejuvenation. Derma Sweep gently lifts the skin surface as the device "sweeps away" the dead skin layer; resulting in a deeper exfoliation and polish of your skin. The increased blood flow encourages collagen formation, thus firming and toning your skin.


Anti-Aging Facial
We use medical strength anti-oxidant products which are formulated to penetrate deeply for maximum benefits. A special serum and masque deeply hydrates and rejuvenates the skin.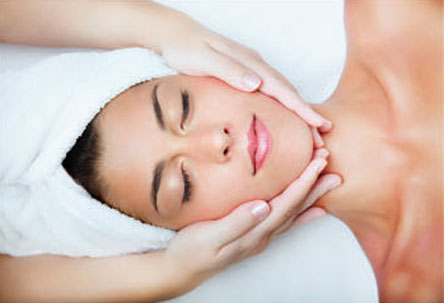 Acne Treatment Facial
Acne treatments work to remove clogged and oily pores helping to prevent blemishes and aid in cleaning impacted skin.


Avanti European Facial
This facial is designed to moisturize dry and fatigued skin. It gives you a refreshed, hydrated, and radiant looking you. Exfoliating enzymes will crate a cooling mask to soothe your skin.


Minus 10 Facial
The MINUS 10 FACIAL is all about infusing the skin with actives that will stimulate, repair and rejuvenate skin tissue. Actives that will firm and tone communicate to cells to produce more collagen, giving skin a luminous glow and buoyant, younger-looking appearance. Targeting the mechanisms that affect skin degradation, this unique facial focuses on those critical areas of concern such as:
Wrinkles and Fine Lines
Crow's Feet
Puffy Eyes
Crepey Neck
Dry, Lifeless Skin

24K Gold Caviar Facial
Give yourself the royal treatment. A 24 Karat Gold Facial is unlike any facial because its concentration of minerals and properties which quickly are absorbed into the skin producing youthful and rejuvenating results. This lavish, pampering treatment helps to improve the appearance of fine lines and wrinkles for a youthful-looking complexion. The 24K gold imparts an opulent, radiant glow and locks in moisture for ultra-hydrated skin.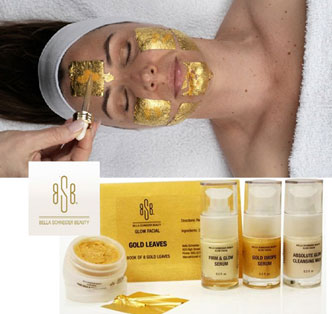 Cleopatra Facial
Pure gold has been used for centuries as the secret to youthful looking skin. Historians have proven that Cleopatra slept in a gold mask every night to maintain precious skin youth. Gold was also regarded as the key to youth in ancient Chinese medicine. The Cleopatra Facial reduces the appearance of fine lines, wrinkles, sun damage and age spots. Hydrates the skin and improves circulation. Slows down collagen depletion and prevents the premature aging of skin by fighting off free radicals. Gold also has powerful antioxidant and anti-inflammatory properties.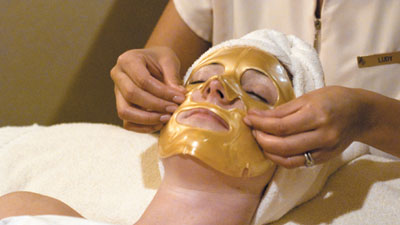 Teen Facial
This facial serves as an introduction to skin care by enjoying the fun and fabulous effects of a facial specifically designed for a teen.


Avanti Men's Facial
Specially created for a man's skin. Enjoy hot steamed with non-perfumed, non-greasy products. Perfect for keeping a man's skin in optimal condition.


Avanti Mini Facial
Recharge with our thirty minute gentle pore cleansing facial, steam to lift impurities, and a specialized treatment mask. Relax with a light massage manipulation.


The Back Facial
Radiant skin on the back and shoulders is an absolute necessity. Our back facial includes deep cleansing and steam to lift impurities, followed by a relaxing massage and specialized treatment mask that leaves the skin clean and healthy.


Eye Treatment
Look younger and feel more refreshed with our most hydrating eye treatment that will eliminate fine lines, dark circles and signs of stress which cause aging around the eye.


M'lis Body Wrap
A natural, invigorating body wrap for toned skin and faster, longer-lasting inch-loss results. The soothing Contour Body Wrap stimulates circulation to your cellulite-prone areas, helping you lose those last stubborn inches and rid the body of beauty-robbing toxins.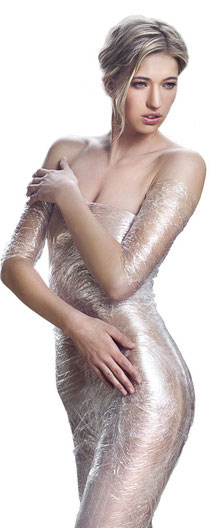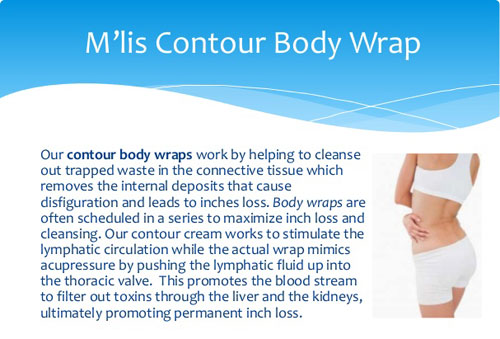 Blanket Slimming Body Wrap
This slimming body wrap detoxifies and contours your body by drawing out toxins and impurities. The slimming blanket uses infrared heat to raise your core body temperature. The infrared rays stimulate fat cells, allowing them to release built-up toxins; as your body sweats, these toxins will be safely excreted.